"As an executive trainer, I found Dr. Gwynne Dawdy to be extremely entertaining and knowledgeable, and her research and Social Compass model to be helpful and solid. I will be able to put this knowledge to immediate use. Thanks!" ~ Vicki Wrona, PMP: PMI Fort Worth, Forward Momentum, LLC
How often do you scratch your head wondering how you can get your project to the top of everyone's list?
Have you ever been asked to produce a project with limited resources (liken this to being asked to build the Taj Mahal with a $10,000 budget). How do you tell your supervisors that this is UNrealistic?
Do you wonder how to get your team on the same page so that your projects seem, well, seamless?!
What do you think of when the term "people-problem" is mentioned to you?
Would you like to speak with stakeholders, project members, superiors and peers so that you can get more done with less effort?
"The best 7 hours ever spent on PDU's. This stuff is superb!" ~ Steve Kauffman, PMP: PMI Alamo, ACS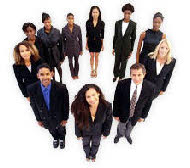 It seems as if project managers have high expectations (placed upon them by selves or others) but may not be appreciated as often as they should. The projects are endless, the changes are around every corner, the conflicts seem constant, and the misunderstandings appear endless. The deadlines do not change, but the resources may be cut, the team members may become saboteurs, and the project itself may not be at the top of everyone's urgency or importance list.
We understand your project management challenges, and we want to help. Welcome! My name is Gwynne Dawdy and I am an organizational psychologist and an expert in project management soft-skill (people-oriented) training. I want to answer these questions and help your job become easier. I appreciate your situation, your hard work, and your frustration with others!
"This was the best class I have taken where I have walked away with a feeling of accomplishment. I really got my feet wet." Rita Neveu, PMP: PMI Dallas, Verizon Business
"The Social Compass and Coaching 1 day course that Gwynne puts on is time well spent. Gwynne has brought the complexities of people style and management into simplistic, well understood tools that we can use everyday. Thanks!" Nicole Eiche, PMP, ISPM