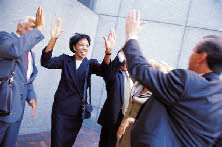 "Excellent workshop! A must for all who manage people." ~ Kathy Muellner, PMP, University Health System
Peak Strategies specializes in training, coaching, and developing high performance personnel and organizations. In this, we focus on the people within in order to enhance productivity and success. Several of our workshops incorporate a whole model approach to achieving organizational success, project enhancement, professional development, and elite performance capabilities.
Each of our open-enrollment courses incorporates action towards desired participant goals. We encourage high levels of participation in achieving each individual's objective. Success, learning, and action are fundamental motivators in these trainings and we ask each person to be prepared for these three facets.
Our trainings are conducted in a forum where attention is optimal, as each individual received feedback from our staff, peers, assessments, self-monitoring surveys, video-recorded rehearsals, or group discussion. The desire for each of these courses is to learn the skills necessary to become more elite in class, achieve higher performance levels, promote greater project management, and reach peak potential. Not only are the individuals positively affected by these extensive trainings, their peers and employees also profit from the desired results as well, pulling the project, team, or organization towards a common goal or heightened level.
"I've attended other courses that attempt to explain behavior types. Gwynne's assessment is in-line with these courses and extends the explanation to a clearer level of understanding." Steve Stump, PMP: PMI Dallas, Intuit
What's In It For Those Who Attend:
Peak Strategies is a training, coaching and development firm that incorporates several quality traits within each and every workshop or session we provide. These qualities include:
Highly interactive feedback and extensive assessments used to pinpoint strengths and areas of improvement useful for results in a timely fashion.

A safe and secure environment in which feedback is shared, learning is heightened and networking is encouraged.

Hands-on, fast-paced, and experiential learning that focuses on the needs and desired objective of each participant. In this, our workshops are also fun and rewarding.

When working within these trainings, one of the foundational concepts is goal attainment. With this in mind, goal setting for goal getting is a key component for each participant and organization.

In depth feedback reports from various assessments used throughout the workshop.

Comprehensive workbooks, books, and handouts to use in your leadership toolkit.

Develop personal roadmaps to assess conflict management.

Network with peers and become involved in Mastermind Groups